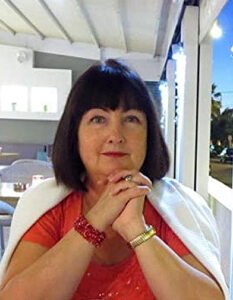 Get news on the next book in the Della Arthur Investigates series in your inbox!
Gwen Parrott is a native of North Pembrokeshire but has lived in Bristol for many years now. She is bilingual in Welsh and English and because of this has been able to write crime novels in both languages. Having worked as a freelance translator, she translates her own work.
Despite being experienced in many different forms of creative writing, such as writing comedy sketches and soap-opera for radio, a careers series for television, musical theatre and straight drama, she keeps coming back to crime.
Her Della Arthur Investigates series is set in Wales just after WW2, and her protagonist is a single woman in her 30s and the Headteacher of a small rural school. The series is published in English by Wyndham Crime.
Being blessed with close relatives who are doctors and police officers means she doesn't have to go far for research – for which she is profoundly grateful.
Read all of Gwen Parrott's Della Arthur crime novels in exclusive ebook editions from Wyndham Books. Available now from Amazon.