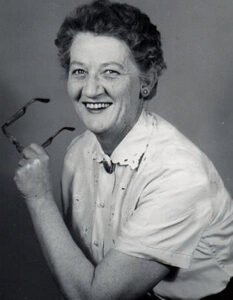 Subscribe to our free Lucy Walker books email newsletter. We will only email you about Lucy Walker book releases and will not share your details with third parties.
Lucy Walker was a pen name of the bestselling author Dorothy Lucy Sanders. As Lucy Walker she wrote over 30 romance novels set in the Australian outback which were enormously successful, selling more than 12 million copies.
Dorothy was born in Western Australia, the daughter of an Irish C of E minister and a New Zealander, in 1907. She began her career as a teacher in Western Australian state schools. Between 1936 and 1938 she lived with her husband in London, where she taught in girls' schools.
In the mid-1940s Dorothy started writing articles and short stories for newspapers, including the Sydney Morning Herald. Her first novel was published in 1948.
From 1952 she began writing her outback romances as Lucy Walker, which found devoted readers around the world, and particularly in the UK and USA. The books, including her famous Pepper Tree Bay series, gave readers a fascinating and authentic insight into the landscape, people and customs of the Western Australian outback.
Dorothy was a member of the Society of Women Writers and Journalists (UK), the Fellowship of Australian Writers and the Australian Society of Authors.
Read Lucy Walker's novels in exclusive ebook editions from Wyndham Books. Available now from Amazon.