Ursula Bloom podcast – A Life in Words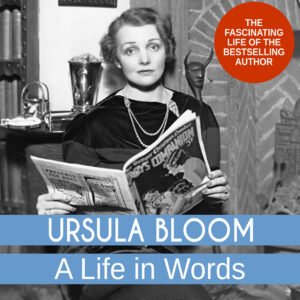 We are delighted to announce a podcast based on the life and career of Ursula Bloom.
Ursula Bloom: A Life in Words, is a five part series of significant events in Ursula's life, taken from her autobiographical writing. It begins with her experiences as a young woman in the First World War and concludes as she finds success in Fleet Street as a national newspaper journalist working on a world famous story.
Ursula's words are read by actor Lisa Armytage. The series is edited and produced by Ian Skillicorn.
The podcast is available to listen to for free from Apple Podcasts, Spotify and Tune-In and wherever you listen to podcasts.
Episode 1: Youth at the Gate (Part 1) – The home front during WWI.
Episode 2: Youth at the Gate (Part 2) – Tragedy on the home front during WWI.
Episode 3: Into the World of Books – From aspiring writer to bestselling author.
Episode 4: Success in Fleet Street – Huge success with newspaper serials.
Episode 5: Very Interested in Murder – As author turned crime reporter Ursula tracks down Dr Crippen's lover.
LISTEN TO URSULA BLOOM: A LIFE IN WORDS ON APPLE PODCASTS
LISTEN TO URSULA BLOOM: A LIFE IN WORDS ON SPOTIFY
LISTEN TO URSULA BLOOM: A LIFE IN WORDS ON TUNE-IN